Shaadi Main Zaroor Aana
Story Line::
A simple middle class family of Kanpur, UP, India.
Girl child education is not much encouraged in these regions – girls are just allowed to do their graduation so that she reaches the marriageable age and then she is wed off.
Parents of such daughters just check the financial status of the groom – they don't bother to match the educational level or even grades! This is a great mistake on the part of the parents! And this is what exactly they are trying to show in the film!
Satyendra "Sattu" Mishra (Rajkummar Rao) and Aarti Shukla (Kriti Kharbanda) are introduced to each other by their parents – purpose? So that they meet each other and decide whether they are ready to 'mate' for the rest of their lives ….meaning get married to each other.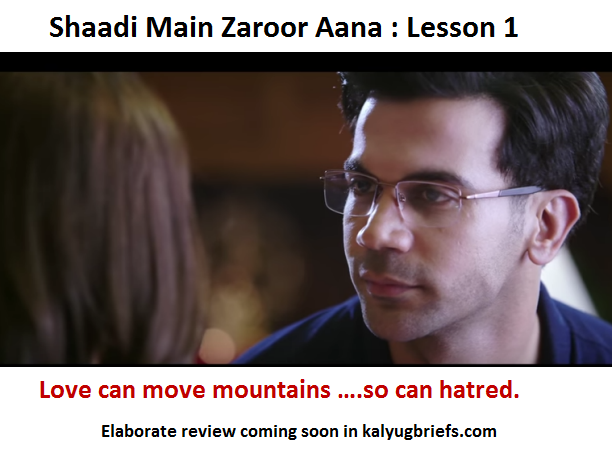 Aarti has been a topper in her school and college too. Her English speaking skills are much better than Sattu. On their first meeting itself, Aarti corrects him couple of times because of wrong accent and English! He just takes it as a joke….although many guys would take it as an insult …saying 'how dare she correct my English ..what does she think of herself etc.' – but because Aarti was exceptionally pretty to look at – Sattu gulped the insult dose easily – as if nothing had happened! (does not happen this way in real life folks!….even same sex friends correcting each other is not tolerated…here the case was of life partners!!)




Anyways, Aarti had already rejected many guys and her father was getting irritated by her constant rejections. She told Sattu that she wanted to work after marriage – to which he said 'Yes'. Now in orthodox families, brides (daughter-in-laws- DIL) are not even allowed to work – so when Sattu said that he will allow her to work – she was happy! The lives of girls after marriage is pathetic – with demanding in-laws – esp. Mom-in-laws (MIL) – they just want the DILs to work in the kitchen and serve the in-laws like subservient creatures. Period. Aarti was particularly afraid of his sort of lifestyle and when she found that Sattu will allow her to work – she agreed to marry him! He was working as a clerk in a government office – and a Govt. job is something great among middle class family people.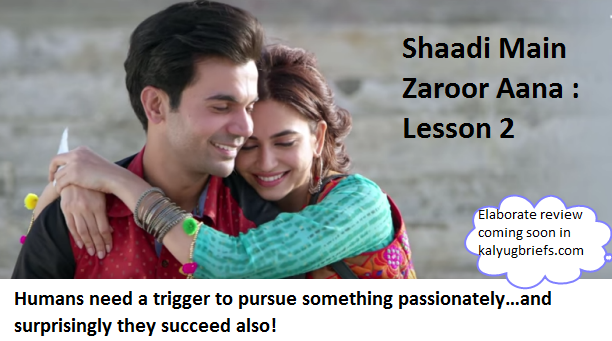 When Aarti eventually agreed, her father went to meet Sattu's parents and they demanded for dowry. Although the amount was exorbitantly high for Aarti's father but still he ageed to give that amount for marriage!




Everything was set. Marriage date got fixed…but on the day of the wedding Aarti's sister came to know that her MIL was way too orthodox and she will never allow her DIL to work! On the wedding day, it was a shock to Aarti that she will not be allowed to work and on that very day, she passed the PCS exam – at one go!
Her sister weighed the pros and cons of her situation – about how she will lose her entire life raising children and cooking food and all her education will be washed down the drain! Confused Aarti runs away on the day of her wedding – with the help of sister and maternal Aunt!
It was a great insult and humiliation for Sattu and his family. He had to sell his mother's ornaments to repay them back their dowry money. His life became a living hell – along with his entire family suffering as they became the butt of ridicule in the neighbourhood! On the wedding day, they were told that she ran away because she was shocked by the dowry demand…but later they told them that why would an intelligent girl waste her life with a clerk!? Esp. when she has the capacity to become an officer and actually keep 60 peons and clerks like him under her feet – this was the exact dialogue!
Well folks! What do we learn from this!?
A lady should definitely get married to a man who is higher than her in position and education! Financial status can still be compromised….the groom can have a strong personality and be higher in career status than her…but someone who is lower in education level or status, it will become difficult for the lady to adjust…and the man will feel threatened and may even suffer from inferiority complex! You see it is an inherent quality of a woman to look up to her man…not down at him….for if she has to look down…her heart will yearn for a Man all her life and the moment she meets some such man – promiscuousness is bound to happen!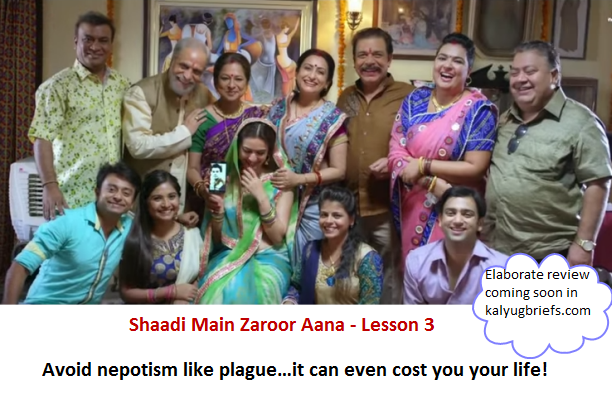 Aarti chose him in a haste in spite of his poor English speaking skills and average educational background – she was a topper after all! But her parents only saw the size of his house and his financial status!
Years later, out of vengeance, he becomes an IAS officer, polishes his English and confronts her. He was full of hatred for her – yet he saves her from false allegation of taking bribe.




Another thing learnt:: Avoid nepotism folks! Aarti had recruited her close cousin in her office and she was taking bribe and had all intentions to even get her (Aarti) murdered!! Relatives will be more jealous of your success as they have been with you since childhood and suddenly when they see your success, they can't tolerate it! Give the deserving candidate the job and avoid preferences and nepotism…it may even cost you your life!
To give the film a happy ending, Sattu – the IAS officer marries Aarti, the state level Officer  – no dowry taken – both had acquired a status to complement each other!
Had she not left him on the wedding night, and had he allowed her to work, she would have been the officer and he would have remained a clerk speaking poor English….and another episode of 'Abhimaan' would have taken place in their lives!