How I became a Seeker For Divine Wisdom
Being born in an Indian middle class family, we get introduced to various forms of Gods at a very early age. Then there were Amar Chitra Kathas – full of stories of Gods and angels – yea – The Ramayana and The Mahabharata – we more or less grow up reading about Gods and their ways and the difference between good, bad, evil…and how the evil meets with its doom eventually – the eternal fight of the Devas and the Asuras and how Lord Vishnu tricks the Asuras and gives back power to the Devas etc.
So we are basically 'religious' by default! Unless of course your parents are atheists .. then maybe a person would not be as religious…nothing wrong in that – just as long as he believes in 'Being Good, Doing Good' – there are many like that in India – and it is perfectly fine methinks – better than being a staunch narrow minded ritualistic person following redundant rituals and superstitions blindly!
Anyway, my mother was pretty much 'God believing' and we had images of Lord Shiva, and Maa Kali, Maa Durga, Shri Krishna and later, while we were in Delhi, Mom also got hooked on to Maa Santoshi – and we used to have chana-gur every Friday…and avoided to have anything pungent or sour – like lemons and pickles….so life was pretty smooth.
Both me and my sister used to dream a lot about Gods though (we still do btw.). When we told our friends they thought we were making up stories as such dreams are copyrights of only great saints and seers and not mere mortals like us. We had then decided not to tell such dreams to others unless we were very sure that the person had complete faith in God. We had read in the Bhagvad Geeta that one should not discuss about Gods with a non-believer (atheist)…as it is a direct insult to God when the other person makes fun of or sniggers at tales and miracles of God! We consider them as ignorant and rather pity their status.
So this way my school life got over and I joined college – got experience of hostel life – gossiping 24/7 – a very new kind of life – and since it was a girl's college – many of us (including me) escaped the greatest disadvantage of college life – i.e. falling for some bloke and ruining the rest of your life! (Thank God for great mercies – for had it been a co-ed. College –I might have done the blunder of falling in love – peer pressure after all …and sealing my life for good!! As it is my sun sign is Libra – we stand for romance and marriage – so with favourable circumstances…I might have gotten myself in real deep shitty trouble)
Although on second thoughts 'love' would not have happened so easy in my case – since the Indian Army upbringing had raised my expectations a bit too high … which the Bong undisciplined, lackadaisical/ laggard intellectuals could not have matched!
I came across Linda Goodman Star Signs that talked about angels, druids, self healing techniques, physical immortality…quite intriguing stuff that was. Then came Lobsang Rampa followed by Richard Bach and Khalil Gibran…..I guess my brain was being prepared to receive higher knowledge. I was always drawn towards palmistry, astrology and stuff and this spiritual element and the concept of Guru – the True Spiritual Master was all new for me…but definitely very interesting.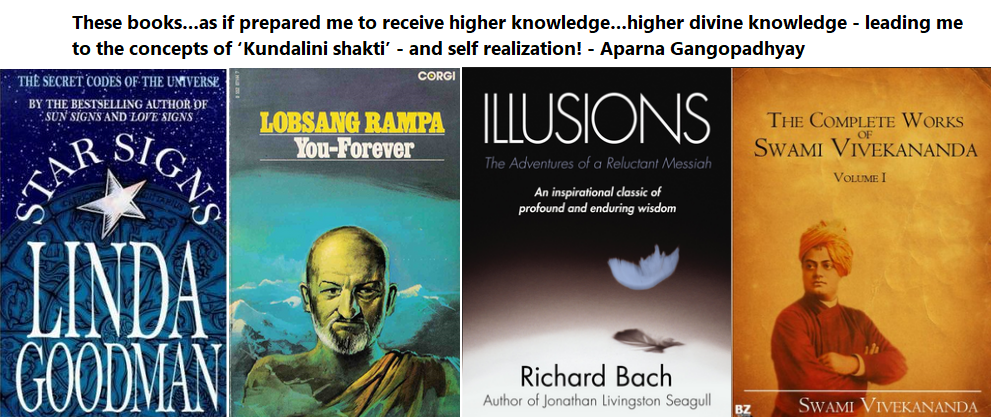 I managed to get a higher second division in B.SC. Zoology Honours from Calcutta University by hardly studying! That took away my option to pursue M.SC.….you need to pass with first division! (ah! Thank God for great mercies – basically I never wanted to work in any laboratory as some researcher or as some professor in college or even a teacher in some primary school…I just wanted to get married and settle down! Graduation was enough qualification for marriage I thought……more than enough in fact)
So I left Kolkata and joined my parents- back to good old Army compound – but this time very alone! While I was at school – I had several friends in the locality – school mates etc. – since maximum Army kids attend Kendriya Vidyalaya but now I was from college and it was a new place Ambala Cantt – my father's last posting…and the Turning Point of my life!
Just outside my house there was this huge Kharga Library (where 'Kharga' means sickle that is a cutting tool…also a weapon held by Maa Kali – to behead ignorance and redundant ideas that stop progress and further evolution of mankind). I used to bring home books….and ultimately brought home 'Complete Works Of Swami Vivekananda' – the book that revealed to me the secret of 'Kundalini Shakti' and that made me an ardent seeker of the divine. This happened in 1992.
I remember having by hearted a shalok of awakening Mother Kundalini – that I got in one of the books in the Kharga Library…I started looking for more information about Kundalini Shakti – after all there was no internet during 1992 – at least not in India and we depended a whole lot on books for various information. I started doing pranayama too – all self learned…although I had read this disclaimer in almost all the books on higher divine knowledge – that – one should not try out connecting with the divine without a Sadh-Guru (true spiritual master) ….and also that 'When the student is ready, the teacher will come'! I had included this sentence in my prayers to God in fact – that God please prepare me (my body, soul, mind, spirit) to receive the wisdom of my Guru! I had even installed a Shiva-Linga at our backyard and I worshipped the idol daily –as suggested by Swami Vivekananda that some rituals or routine should be followed to keep your mind engaged in prayers – some time dedicated to Gods – and gradually that time can be increased.
All this happened in 1992. My father retired and we came back to our ancestral house at New Barrackpore. Well a great illusion happened to me at this juncture of my life – I fell for a guy who used to get possessed by Maa Kali – and also in my dreams I was given the understanding that he was the re-incarnation  of Shri Ramakrishna! One may read the details here – My Love His-story!
Now when I look back I understand that he came in my life to just create a mental block so that I don't do the blunder of getting married and settle with some bloke raising his children and be like a subservient female for the rest of my life! Since I am very peace loving and don't quite like to scram or shout – most people take me as some subservient B—ch who can be exploited and treated like muck – since I don't react! I can't change my nature and become aggressive – so I just avoid and ignore such people and gradually break all relations with scheming blokes – be it personal or professional. Had I been married and had I got a 'crappy' husband – (you never know what kind of karmas I may be having – I might have gotten married to some egoistic bloke and served him for the rest of my life – and ruined my human birth raising selfish children from that bloke!) – my life would have been sealed for good!!
Anyways, whatever happened, happened for good! I got over my illusion in 1999 and started seeking divine from a scratch! Yeah – I was dumb enough to think that – since the reincarnation of Ramakrishna would be mine – so eventually I will also find God and live blissfully and eternally ever after!! I did Art of Living – Level I and II followed by Reiki – Level I & II…..and eventually came to Sahaja Yoga. Have been practicing Sahaja Yoga since 2002. So dear reader, if you too are seeking the divine, visit the website – www.sahajayoga.org – know about it – visit the nearest sub-centre, get your direct connection with the divine – get your self realization. Your human birth will be worthwhile.
I may have finished writing about my seeking and eventual finding of my Guru in 2 pages….but it was not a very easy journey folks – lots of setbacks, bouts of depression, frustration…even suicidal tendencies – because when a spiritual seeker cannot find a like-minded person around – when the rest of everyone is very happy with worldly creature comforts – a spiritual seeker only sees a blank wall in front of him…..nowhere to go plus there are charlatans in this field – about 95% of those who propagate things about religion and spirituality are unfortunately frauds!
So folks, I have just shared an address with you. Knock and the doors will be opened. Amen.