Ghoomar song depicting Rani Padmavati – The epitome of chastity
Another reason why Indians went berserk and were against the release of Bollywood film – Padmaavat….see the dance choreography and dress sense with which the song is being depicted now! Exactly the reason why people were so much against some Bollywood actress – who are well known for their 'zero scruples' – to depict the epitome of chastity!
See the 'Ghoomar On Ice' making the rounds on social media!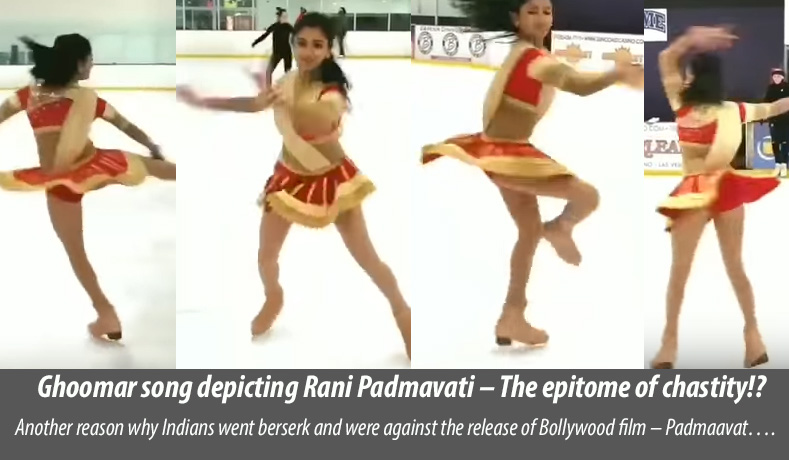 So do you see now? Concepts like chastity, virginity, being decorous – everything will be mocked at now! These very concepts are the USPs of Indian women……and many in our country do abide by such values – no doubt about it….because Indian men know that 'Protecting the dignity' of women is their first and foremost responsibility and they do take utmost care too.




But the entertainment world is basically out to exterminate all value system altogether it seems! I had made a similar comment on 'Satyam Shivam Sundaram' too…..what was shown in the film with that title!? Absolutely blasphemous…..the same film could have been released for the 'sex' starved creeps – we cannot stop that from happening after all – the female nudity sells and people make money and run their families – feed their children…flesh market rocks…. and all that blah blah blah…..so why malign the name of God? The film Satyam Shivam Sundaram could have been titled as :
'Jharne tale bhigi ladki' (Female under waterfall)
'Safed Saree no undies' (white drape without inner wear)
Any of the above would have fetched many viewers….trust me – they still would have made money…and fed their families!